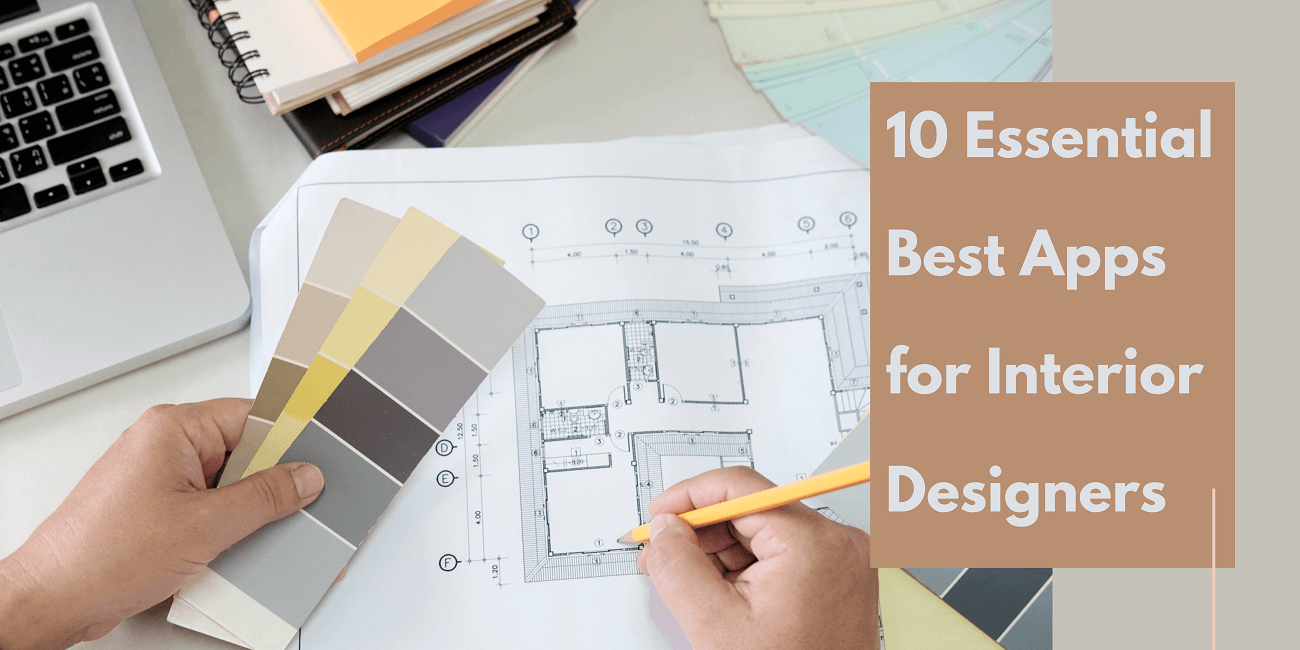 Being tech-savvy has become more than just a choice for interior designers. Today we live in a digital world where everything is online, including a designer's work. Modern interior designers no longer need to carry thick and heavy business portfolios. They can manage all their professional work, whether designing, contacting clients, or managing their day-to-day activities digitally.
Nowadays, we have many super productive software applications that can help manage various works of a designer better than the pen and paper method. These apps are not only helpful for handling daily activities and designing works, but they can also act as a mini-marketing platform to promote their business online.
So, if you are also a professional or freelance interior designer curious about these applications, keep reading. Here we will list some essential apps an interior designer must have.
Best Apps for Interior Designers
Wunderlist
Wunderlist is one of the widely used apps by interior designers; this app allows you to access an interactive to-do list you share with your team members, clients, and contractors to explain and manage your project. Managing several lined tasks and keeping track on them is essential for an interior designing business.
However, handling a pen-and-paper to-do list is hazardous and affects your productivity. But Wunderlist allows you to install customizable dates, rank tasks by priority, and break up big tasks into sub-tasks for clarity. So, when you use this app, it becomes easier to streamline your tasks as an interior designer.
SketchUp Pro
Another essential app that you should Wishlist for your interior designing projects is SketchUp Pro. SketchUp Pro is the advanced version of the SketchUp app dedicated to designers. The app has an extensive modeling suit that designers can use to create beautiful 3D models for anything from contemporary furnishings to passive buildings.
You can also use this app to create 2D sketches of your design ideas and then custom style and material to illustrate your idea on screen. SketchUp Pro is compatible with virtual reality platforms like HTC Vives, Oculus, and Microsoft HoloLens.
So, you can easily and virtually display your in-progress projects and seek feedback. Creating, storing, and sharing your designs becomes seamlessly easy with SketchUp Pro. The app offers massive cloud storage and a web tool to make your work easy and fun.
Photo Measure
Photo Measure is also an essential tool for interior designers that you can keep on your Wishlist. It is an advanced software with a virtual measurement facility. The app can greatly help, especially when working with different furniture dimensions and sizes. Measuring the accurate size of each piece of furniture is essential for interior design.
For example, if you are designing the interiors of a room or cabinet, you can use this app to determine the most suitable size of the furniture within the space and work accordingly. Measuring the furniture with an app becomes easier than manually measuring, saving labor and time.
SmartDraw
If you are looking for an innovative and advanced tool to support your floor planning digitally, then SmartDraw is just the right option for designers like you. The app software is highly intuitive and easy to understand.  
So, you do not need to take much time to learn the use of the tools. It offers an ocean of endless themes and layouts that you can explore. Also, the app offers endless floor planning options (building materials, furniture, and cars).
You can use SmartDraw to create as many floor plans and themes as you want. However, the app is only free for the first seven days, and if you want to use the app in the future, you have to subscribe for a paid membership.
Floorplanner
Floorplanner is also a powerful application that you can have for your interior designing works. The app is crafted with advanced tools, allowing you to design a space in 2D and 3D models. The Floorplanner does not require any advanced knowledge of curves to create your floor plans. Here you can sketch your ideas in 2D and then turn them into 3D to add suitable furniture.
The core strength of this app lies within its functionality. In addition, Floorplanner is a web-based app, and you do not need to install the app to work on it. You can feel the ease of working online from anywhere and anytime.
Planner 5D
Planner 5D is also a popular and advanced in the list of interior designing apps that many professional interior designers use. The Planner 5D app lets you easily design your floor plan and other aspects. It looks like a free version of SketchUp Pro but can offer some other interesting features to simplify your designing experience.
With Planner 5D, you start the work by customizing the shape and size of the floor. Then you can change the color and material of the floor, then add walls, doors, and windows with various color schemes and designs. You can also add furniture by switching it to a 3D model and printing them to share with your clients or other collaborators. However, using more furniture other than the basic ones may cost you a bit.
Hootsuite
Currently, in the world of digital marketing, social media can act as your marketing team. With so many social media handles like Twitter, Instagram, Pinterest, Facebook, LinkedIn, etc., it becomes more tedious to handle them all. Usually, you need to hire a staff to handle all your social media activities and stay on top of everything.
However, if you are not willing to invest money in an employee, then Hootsuite can be your ideal option. Hootsuite is a social media management app that you can use to read all your social media posts, schedule different posts, and schedule your blog posts and editorial content all in one place. The app may charge a small subscription fee to access all these facilities, but it is worth your money.
Homestyler
Homestyler is also a popular app for interior designers. The app is more like SketchUp or SmartDraw, and you can use it to create your floor plans in 2D and 3D models. With HomeStyler, you can bring your design ideas into 2D form and then switch to the 3D mode and add furniture and other objects to create a virtual version of your idea.
At first, you have to master the floor plan basics with the 2D tools. Once you finish your 2D modeling, you can shift to the HomeStyler library. Here you can get endless options to add real-life objects like building materials, furniture, color, furnishing, art, etc. The app adds your chosen objects on a 1:1 scale in your floor plan.
Also, HomeStyler creates an immersive panoramic visual form of your 3D floor plan that you can print or digitally share.   
Adobe Capture CC
Adobe Capture CC is another app in the list of valuable apps for interior designers. The tool is top-rated among the new age interior designers. Adobe Capture CC's best feature is that it quickly extracts the color scheme from any picture. The app compiles three top-graded photo manipulation tools of Adobe to bring this revolutionary color palate creator.
As an interior designer, you understand how difficult it is to create the color palate of your client's recommendation. You need to work for hours in front of the desk to achieve the desired results. But if you have the Adobe Capture CC, you can leave the labor to this software.
Take a picture of any place that you want to use as your inspiration. Upload the picture on the app and extract the color scheme with a simple click. So, next time your client asks you to create a color scheme that reminds them of their grandma's home, ask them to bring a picture.
Pinterest
It is not surprising that Pinterest app is a significant source of inspiration for many artists and creative people, including interior designers. The app can be ideal for brainstorming innovative ideas and finding suitable objects to bring them into reality. On Pinterest, you can access millions of furniture, color, and other materials required for your floor plan.
The app provides more than just visually inspiring images and themes. Here you can get a virtual mood board to craft your floorplans and add the saved items from the feed. You can search millions of furniture images and save them for your floor plan. Also, the mood board is available in both private and public modes. So, if you wish, you can also ask your clients to pin themselves on the board to discuss the theme and floor plan.
Conclusion
The interior designing work requires more than bringing up creative design ideas. You need to execute them in the floor plan and measure out every aspect, from selecting the building materials and furniture to the shape, size, and color of the furniture.
Advanced software apps make it easier to digitally manage all your design and official tasks. And here, we have listed some helpful apps for interior designers that you can use on the go to efficiently manage your design business.