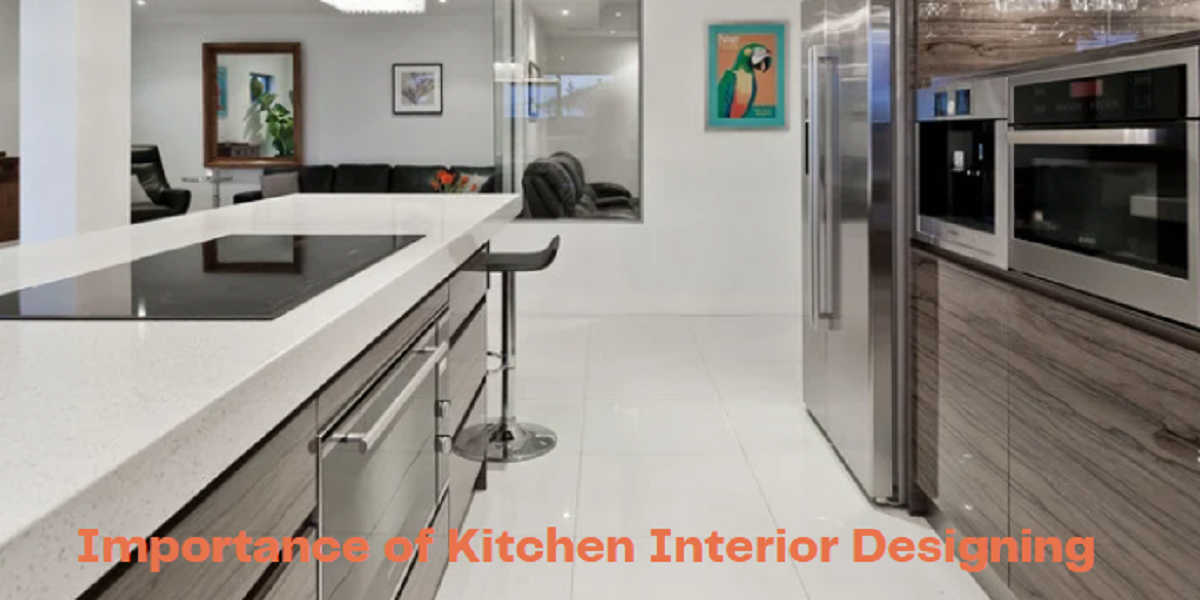 Have you ever wondered why kitchen interior design matters? Your unique space can comprise multiple rooms, sitting areas, and bathrooms. However, generally, the kitchen is always one. It makes the heart of your home a place you might visit numerous times a day.
With several hours spent in this space for cooking, baking, and experimenting, your kitchen serves several purposes. Moreover, no two kitchens are alike. Hence, a kitchen interior designerplans and designs your kitchen area with immense care.
This blog post will unfold the significance of interior designing for your kitchen and how it can improve your workflow, offer safety, increase your property's value, and cater to your and your family's needs.
Enhancing Functionality
A perfect design for your kitchen will focus on both aesthetics and functionality. Some of us spend hours in the kitchen. Hence, you would not want a design that causes inconvenience or hampers your workflow.
Whether completing your daily chores or going on a food adventure, you want the process to be smooth and efficient without any errors. And this comes with a structured design. Every person who cooks understands how an organized space removes complexity while carrying out different activities.
Hence, an arresting kitchen design will pay attention to the kitchen and food storage and make appliances and tools more accessible. A kitchen design will consider the countertop space, accessible dishwasher, placement of stove and appliances, waste disposal, and most importantly ample storage area.
When designing your kitchen space, discuss with your interior designerabout the layout and storage. When it concerns the layout, they will help you determine how you will use the kitchen area and specific requirements.
A space's shape and dimensions are the factors to consider for every kitchen layout. For a kitchen environment that supports an effective workflow, a basic design follows a work triangle that creates a relation between the sink, cooker, and fridge.
Different layout kinds include peninsula, corridor, in-line, u-shaped, and island unit. When deciding on the layout, your designer or you can consider your cooking habits, kitchen usage, etc. Additionally, there will be questions regarding your storage needs.
You can decide on storage size by determining your storage needs and wants. Generally, wide drawers are the best storage solutions for all kitchen types. It means you will not have to worry about storing different items, whether large, small, or awkward.
With smart storage space, you will not need to stuff your shelves with cutlery, baking tools, cooking gadgets, saucepans, and crockery.
The proper arrangement will make it easy to find tools and materials, and the ideal placement of the sink and storage will make moving materials much more uncomplicated. Further, your meal prep can become smoother and more relaxing when the kitchen design uses ergonomics. You will not have to scour for things while preparing your favorite meals.
Promoting Safety and Comfort
A kitchen's design plays a vital role in promoting comfort and safety. Homeowners with kids understand the importance of adding a safety aspect to aesthetics. These include appliance placement, flooring type, and overhead lighting.
You can work closely with a professional kitchen interior designerto ensure this accident-prone zone has the most recent safety products for the kitchen to avoid injury. They will also childproof every area without compromising the aesthetics.
The designer will pay attention to stove placement. The chances of stovetop spills are never zero. Hence, ensuring they are not so close to the edge is essential for safety. Securing them to a wall is a fundamental safety measure. Your designer may incorporate a safe cooktop.
Another reason for kitchen injuries is poor lighting. A kitchen space devoid of natural light or proper light lamps can result in eye strain and weariness. Hence, appropriate lighting, including work surface-focused lighting, can enhance your meal prep process while ensuring safety.
Good lighting will also make spills more noticeable. You can then easily clean them so that no one slips and falls due to them. Additionally, you can ask your professional kitchen designer to use layer lighting that helps eliminate any shadows and ensures your work surface is safe to work with.
Light fixtures added to numerous places, such as ceilings, inside and under cabinets, above kitchen islands, etc., can help to layer lights. You may add multiple kinds of lighting, such as pendant, task, track, under-counter, and recessed lighting. Of course, the best is natural lighting with large or multiple windows.
For a safer and healthier environment in the kitchen, ventilation is paramount. A kitchen can boil due to all the heat and smoke produced during food preparation without ventilation. Other times the intolerable odors released also contribute to a stuffy and poor kitchen environment.
By installing a proper ventilation system, your kitchen interior designerwill be able to solve all these problems. Another aspect they notice is kitchen flooring that if improper, can cause safety hazards. It takes water, oil, or other food spills to cause major kitchen accidents.
Therefore, preferably lighter and non-slip material for flooring makes an ideal choice. You may choose from vinyl planks, textured tiles, synthetic material, and ceramic tile with a soft glaze, laminate, or cork. With tiles, a non-slip rug will look the best.
With the kitchen being a necessary space with the most usage, incorporating an ergonomic design can help create a place for the user, ensure excellent flow of work, standardized storage, etc. The layout helps create a safer environment for cooking.
For additional safety for your kids, you can use high storage spaces for storing alcohol or hazardous cleaning items away from the kids' reach.
Reflection of Personal Style and Taste
Avoid limiting your kitchen to its functionality when it can be so much more. It can be the best reflection of your personality. Adding unique elements can help create a personalized and attractive space for extra fun while making the best dishes.
You pay attention to the tiniest details to tell your story and express yourself through your living room or bedroom's appearance. In the same way, paying attention to different elements, such as color, textures, finishes, and materials can help you transform your kitchen.
The first thing to consider is the color palette. A space with a cohesive look has a well-tied color scheme that matches your kitchen design. You may incorporate a calming effect with a lighter palette, evoke an energetic feel with a brighter palette, or use a darker scheme to build mystery.
Different colors have a distinct effect on the vibe of a space, colors play psychological aspect in interior of your living space including your kitchen. Further, bringing in varying materials and textures can help add depth and variety to the room and enable you to express yourself.
For incorporating a visual element, texture plays a vital role. It helps break color blocks or create a distinctive zone in the kitchen. Interiors can enjoy the warmth incorporated by textures. Using natural materials can help you add coziness to your kitchen space.
Further, blending different materials can help bring variety without switching to a bold palette. Your kitchen interior designermight play around with exposed bricks with natural wood to create an appealing space. Moreover, yourdesigner will pay attention to the type of material and finish of the cabinet to make your kitchen delightful and protect it from all kinds of damage.
The color, material, texture, or finish selection may also depend on your kitchen style choice. Numerous styles await you to explore, including contemporary, traditional, modern, Scandinavian, farmhouse, eclectic-style, Mediterranean, and more.
You can choose a modern design for a sophisticated feel with a minimal look and high-end materials. If you are thinking about a shaker cabinet style with a timeless marble countertop, a traditional design will do the magic of providing you with an elegant and clean aesthetic.
A contemporary design will help you add artistic elements while keeping everything clean and tidy. However, unlike the modern design, contemporary has a playful side with finishes and structure. An impressive amalgamation of simplicity and functionality, Scandinavian designs utilize straight lines, neutrals and whites, natural light, etc.
However, if you are a fan of coziness, softer colors, wooden flooring, vintage cabinets, radian colors, and decorations, a farmhouse style is your kind of kitchen style. Several more design options like eclectic-style, shabby-chic, industrial, Mediterranean, and more are waiting for you to explore.
Realize what you like and do not, and add them to your kitchen area to give it more personality, depth, and life.
Increasing Property Value
The kitchen is not simply limited to cooking or working as your homes heart. It is a special place for socializing, dining, or even entertaining. Since it plays a crucial role, buyers pay special attention to a home's kitchen. And since it gains so much attention, it is also a deciding factor when selling a home.
Hence, this single space is invaluable and can boost your ROI and aid in selling a property faster. You can collaborate with a kitchen interior designer to increase the property value for selling or remodeling. The styles and framework of your kitchen can also define its resale value.
Investing in building a modern and ergonomic space today offers you the opportunity to get a better price when selling it later in the future. So, when designing a kitchen to increase its value, there are a few aspects that you must consider.
Primarily, keep function in mind. Choose a feasible layout to ensure a seamless workflow. Also, utilize the work triangle (sink, cooker, and fridge). Another deciding factor is storage space. The hired designer will consider the overall cabinets based on the room's size with cabinet location.
Next in line is the appliance space. Apart from your fridge and oven, allocating space for a microwave, telephone, coffee maker, and other appliances is also essential for adding beauty and selling your house to a high-end market.
Adding recognizable appliances can make your kitchen space more expensive and offer familiarity to your buyers. If you do not have the latest equipment, you must upgrade them, especially refrigerator, cooktop, and stainless-steel gadgets.
You cannot forget the lighting and ventilation to guarantee an illuminated space with better air circulation. It will add an appealing and hygienic element to your kitchen area. From ambient lighting to fluorescent tubing, you can use various lighting options.
Other than these elements, the color scheme also changes the overall appeal of your kitchen area. To attract buyers, your kitchen interior designerwill use a more neutral palette for your countertops or flooring to keep your space looking modern. The minimalistic look will give buyers to add more to the room to make it their own.
The result will be an increase in the property value. As per NAR, a single project for interior design can generate a 50% ROI. Hence, for every dollar, you can recover fifty cents with an increased value of your house.
Creating a Social Hub
Over time, the kitchen designs and usage have changed drastically. Where once it was present at the back of the house, today it stands at the center, being the most utilized room. Today, people use it to socialize, assemble, and gossip.
Today, more guests and people gather in the kitchen, causing a change in the overall layout. With kitchens being more open, discarding the walls and are a neighbor to the living spaces. In case of a party or gathering, homeowners can use the island to serve appetizers to the guests.
Guests can gather around the counter and help the cook with meal preparation or serving food. Unlike in the past, today homeowners rarely use servants to serve food. With people gathered around the kitchen island, anyone can lend a hand in offering food items.
Hence, these spaces have become multifunctional. These spaces have exceeded their primary function and now work as a space to work, meet guests, do homework, etc. The latest interior designing trends are moving towards open layouts to combine dining and living with the kitchen. They also promote better traffic flow.
Walls are an ancient aspect when it comes to kitchens. More and more people are opting for open layouts. The future designs for the kitchen see it as a central hub than a separate room. Moreover, electronics are already appearing in these spaces.
While hiring a kitchen interior designerto remodel your space, you must consider the social aspect. Incorporating open spaces will promote interactions with guests and allow you to use them for multiple functions.
Conclusion
The kitchen is the heart of your house and is among the most used spaces. Hence, designing this space suitably will help enhance its beauty and functionality. Using interior design helps create a space that caters to your style and personality.
A good design will also give importance to workflow and the safety of your space. A great interior design promotes socializing and builds better relations with your guests. Further, if you plan to sell your house in the future, remodeling your home with an interior designer can increase your ROI and property value.
For the best guidance and help, you can hire a professional interior designer to create a space that satisfies your and your family's needs. They will ensure only the best colors, layouts, designs, materials, and textures. Further, you can follow our website if you are starting your kitchen design journey and wish to learn more or seek inspiration to create aesthetically pleasing spaces.