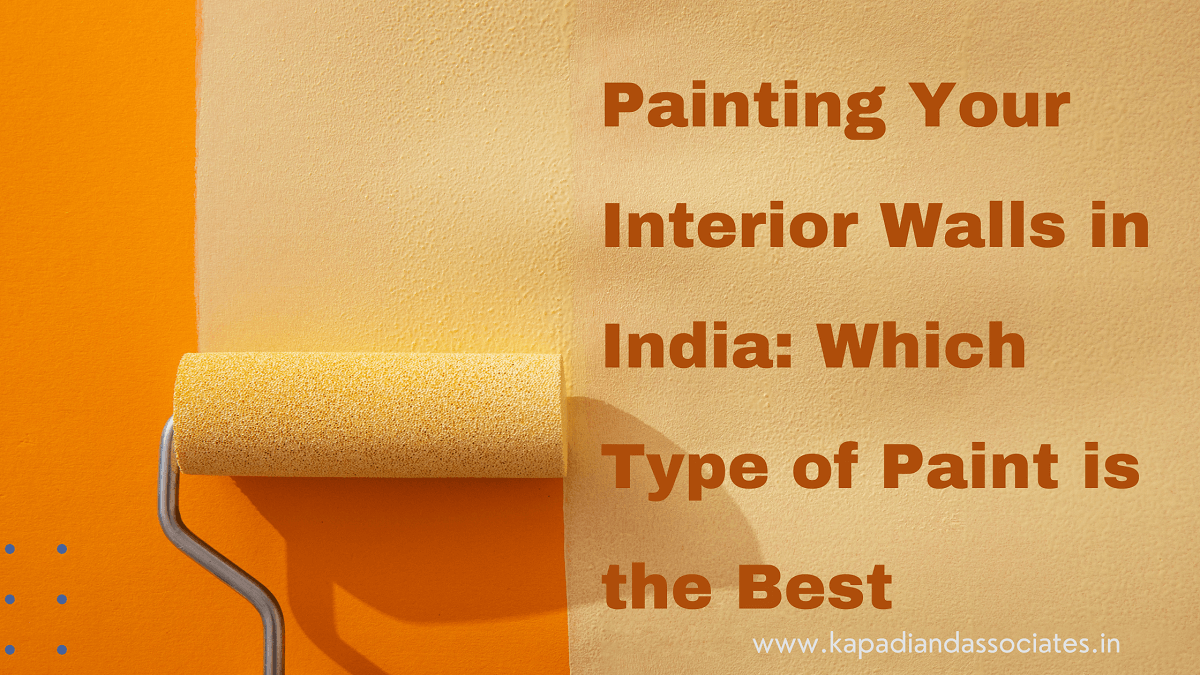 Painting your house's interior walls is the most fascinating yet challenging task. You get thousands of options and want the best one that goes well with your choice and suits your home too. Painting the interior walls is essential to keep them safe, healthy and strong and increase your house's longevity. Not only that, the paint gives life to the walls and enhances the beauty of your dear home. Also, painting your interior walls is a great way to express your creativity ideal and reflect your personal choice.
However, when you choose paints for your interior walls, you must consider more than the external beauty. You need to remember a lot of things like durability, ease to use, paint texture, environment and more. In addition, when you choose paints for interior walls, you must consider the environmental factor as it is a major factor in India.
Also, when you choose paint for your interior walls, you invest your precious time, money and emotion. Choosing the best paint would be something that suits your style, is sustainable and cost-effective. And here, we will share a detailed guide on which paint is best for your interior walls in India.
Types of Paints for Interior Walls
Explain the pros and cons of each type of paint and which type is suitable for which room in a house.
When choosing paints for interior walls, you can get various options not only for colors and textures but also in terms of paint types. There are different types of paints available for interior walls in India, like enamel, emulsion, distemper etc. And each has its unique characteristics, benefits and drawbacks. Also, different types of paints suit different rooms. And below, we will discuss each type in detail.
Enamel paint
Enamel paint is one of India's popular paint choices for interior walls. Enamel paints have a rich texture, glossy finish and vibrant look. This paint is excellent for interior walls and home décors. Enamel provides a long-lasting finish; however, you must take time to let the paint dry. Also, note that you will need solvents to clean the brushes after painting.
Also, enamel paints are great for places where humidity and moisture are high. But the paint is not flexible as emulsion paint and can develop cracks with time.
Pros of Enamel Paint
Excellent for home décors.
Permanent finish.
Ideal for high moisture and humidity areas.
Glossy finish.
Cons of Enamel
Not much flexible.
It takes time to dry.
Cracks appear over time.
Best Areas to Paint with Enamel
Bathroom and kitchen (because the paint suits high moisture and humidity zones).
Emulsion paint
Emulation paint is a water-based paint that provides a glossy smooth finish without the hazards of acrylic paints. Emulation paints are also great for the high-temperature environment and highly durable in nature. The paint is also very flexible, does not crack or cramp and lasts longer than other water-based paint.
In addition, emulsion paints also resist contaminants such as fungus and mildew. As a result, it helps prevent discoloration. The paint incorporates pigments well to offer quality color transmission.
Pros of Emulsion Paint
Glossy finish.
Flexible, long-lasting and washable paint.
Prevent discoloration and resist mildew and fungus.
It is easily dried.
Withstand harsh weather.
Cons of Emulsion Paint
Not ideal for home décor or metal paint.
It can be more costly than other water-based paints.
Low drying rate at high humidity atmosphere.
Best Area to Paint Emulsion Paint
Kitchen, bathroom and outdoor walls.
Metallic Paint
Metallic paint is also a water-based paint with suspended metal particles giving off an excellent metallic finish. The paint provides a luxurious, high-quality look and can be an excellent alternative to wallpapers. Also, metallic paints offer a high-quality metalized finish, can provide a rich metallic finish, and can replace troublesome installation to give your home a dynamic look.
The paint is also available in powder form, and you can mix water to get a traditional paint finish; however, only for small-scale usage.
Pros of Metallic Paint
Prevent corrosion.
Prevent rusting.
Ideal for metal objects.
Gives off a rich and luxurious finish.
Last longer.
Cons of Metallic Paint
Develop cracks over time.
Require frequent reapplication.
Fades away unevenly.
Distemper Paint
Cement paint is commonly known as distemper paint. It is a white formula that results in a hard finish. Unlike other paints, it does not require any primer before applying the paint; however, you must sand it before applying it to the wall. Distemper paint is also easy to apply, and you can apply it on both dry and wet walls.
The biggest advantage of Distemper paint is that it does not crack when exposed to sunlight as other paints do. Also, distemper paints are washable with soap and water.
Pros of Distemper Paint
Does not crack under sunlight.
Easily washable.
It can be applied on both wet and dry walls.
Heat resistant.
Do not need a primer before painting.
Pros of Distemper Paint
Not fully washable.
It can peel off when it is wet.
Color fades away quickly.
Best Area to Paint with Distemper Paint
Bedroom, living, and other rooms.
Luster Paint
Luster paint is also a popular choice for interior walls in India. The paint is highly durable and washable and gives a shiny, smooth finish. Luster is also very durable and does not crumple or crack easily. Also, the glossy smooth finish of luster paint enhances the beauty of your home and looks aesthetically pleasing. However, the paint gives off a strong and unpleasant smell. But you can use water-based luster paint to avoid it.
Pros of Luster Paint
Highly durable.
Washable.
Gives a glossy smooth finish.
Cons of Luster Paint
Costly
Non-eco-friendly.
Strong and unpleasant odder.
Best Area to Paint with Luster Paint
Bedroom, living, kitchen, bathroom, etc.
Textured Paint
Another paint type popular for interior walls in India is textured paint. Textured paints have high aesthetic value and look great on interior walls. If you want to display a precious painting, artistic décor, or a bookshelf, then textured painting can help you make the most of it. The paint is also great if you want creatively color your home walls and make a unique design alternative to the wallpapers.
Pros of Textured Paint
Excellent for creative purposes.
It can absorb light and reduce unwanted reflections.
Cons of textured Paint
Finishing varies depending on the application.
Tricky to apply and requires practice.
Best Area to Paint with Textured Paint
Living, bedroom, hall, dining, etc.
Top Paint Brands in India
If you plan to paint your house's interior walls, you must figure out which paint will be the best. However, deciding the color, texture and type is not enough; you must learn about the popular paint brands and choose one that matches your needs. There are multiple popular paint brands in India that offers a wide range of quality paints from emulsion, enamel, textured and more. And below, we will discuss some of them in detail-
Asian Paints
Asian Paints was established in 1942. It is India's largest paint company and Asia's third largest. Asian paints offer a wide range of paints for both external and internal walls. Here you can also have different types of paints for interior walls, like emulsion, enamel, tempered, weather control and more.
Depending on the paint type, the characteristics and key features of Asian paints may vary from one to another. For instance, some have an ultra sheen, while others can have a matte or semi-gloss finish. Also, most of them are durable and resist heat and bacteria to prevent discoloration and cracking.
Berger Paints
Berger Paints is another popular paint brand in India that offers various paint services, including interior wall coating. The paint company has been helping thousands of Indian households with its supreme-quality paints since 1923. The paint has three primary paints for interior walls: Silk breath easy, silk luxurious and glamour. They all have a rich sheen, highly durable and vibrant color transmission.
Nerolac
Nerolac is also a leading paint brand in India that offers various types of paint for both exterior and interior walls. The brand offers quality interior colors that are easily washable, ultra to semi ultra and radiant sheen. Some popular interior paints by Nerolac are Nerolac distemper, luster, pearl luster, Silver and Golden Glow.
Dulux
Dulux was originally Akzo Nobel was Empirical Chemical Industries. The company does its business in India under the name of Dulux. Dulux offers various paints for interior and exterior walls, from spray, distemper, emulsion, luster, etc. The key features of the paint vary depending on the paint type. However, most are durable, offer semi-to ultra or eggshell sheen, and some are washable and contaminator resistant.
Factors to Consider Before Choosing Paint
Choosing the right paint is essential for an elegant look at your house or business place. And there are various factors that you must keep in mind while choosing a paint.
The Richness of Color
The first thing people consider while choosing paint is the color. But it is not only the color you choose that you should look at; the richness of color is crucial in choosing paint for interior or exterior walls. The color richness affects its shade. Some paints also come in color-lock technology, which helps to maintain color richness for a long time.
Sheen Level or Finish
One thing you should know about paint sheen is that the higher the sheen, the greater the visible imperfections. There are mainly five types of sheens or paint finishes- high-gloss, semi-gloss, satin, matte or eggshell and flat. High-gloss paints are for highly humid and traffic areas like exterior walls and kitchen and bathroom walls as they are glossy and washable but cannot hide imperfections. Semi-gloss paints lack a high-gloss quotient but can deal with moisture and traffic.
Satin paints are velvety but easily cleanable, so many people choose this paint for their active rooms. Matte paints easily hide imperfections, but it isn't easy to clean. And that is why they must be used in lower-traffic areas like formal spaces. Flats are great for hiding imperfections, but they are not cleanable. They are preferred for ceilings or office rooms. Keep this in mind while a paint for interior walls.
Coverage
Coverage is an important aspect of wall paints. You cannot go for multiple coats of paint to achieve the richness of color. Instead, choose a paint that offers greater coverage in one or two coats for a cost-effective printing solution.
Washability
Washability is an important factor to remember when choosing paint. Washability refers to a paint's ability to withstand frequent cleanings without giving away color richness or finish. Generally, high-gloss and semi-gloss paints are easily washable. And if you are choosing paint for high-traffic and high-moisture areas like the kitchen or bathroom, you must consider the washability of the paint.
Environment Friendly
Nowadays, many brands offer environment-friendly and safe paints for interior and exterior walls. High-chemical paints are not only bad for the environment but also harmful to human health. And that is why you must remember this aspect while choosing paint.
Budget
Last but not least, budget is crucial when choosing a paint. Everyone prefers to buy budget-friendly or cheap paints, but you must know that cheap paints can harm your walls and your health. You must choose a paint that fits your budget, but it should never be at the cost of the paint quality.
Best Paints for Interior Walls in India
Interior walls are different from exterior walls, and what works on exterior walls may not be ideal for interior walls.
Emulsion paints- Emulsion paints are ideal for interior walls as they are water-based and do not have any harsh smell. Emulsions are also good in terms of durability and maintenance.
Distemper paints– Distempers are the only interior paints available in 80's India. You can try distempers if you want a classic for your interior walls.
Water-based luster paints- Water-based luster paints are eco-friendly, high-sheen and durable. These glossy paints are a bit expensive, but they can enhance the look of your interior walls.
Textured paints- If you have an artistic soul, textured paint is ideal for a house's interior walls. Pair it with compatible lighting to achieve the best effects.
Enamel paints- Enamel paints are unconventional interior wall paints. They offer a glossy surface and protect your walls from excessive heat and moisture.
Conclusion
Painting the interior walls of your home requires a lot of research as you need to consider more than what color you want to do in your living, bedroom or bathroom. Interior walls differ from exterior walls, and what suits the exterior may not benefit your interior walls.
Also, when choosing the paint type for your interior walls, you must learn about different types of paints and which environment is ideal for each. Also, you must consider various factors like durability, heat and dirt resistance, washability, cost etc.
For instance, if you are painting your kitchen or bathroom, you should choose a paint that resists water and moisture and offers a smooth, glossy finish, such as enamel or emulsion. Here we have discussed everything you need to know about interior paint in India, from types of paint, top brands, how to choose the best paint and more. This is where an interior designers can be a valuable resource. By understanding your specific needs and preferences, an interior designer can help you choose the right paint and finish that will enhance the beauty and functionality of your space.
Also, we would love to hear about your experience with interior painting and which paints you find suitable for your home. Do share your thoughts in the comment section.