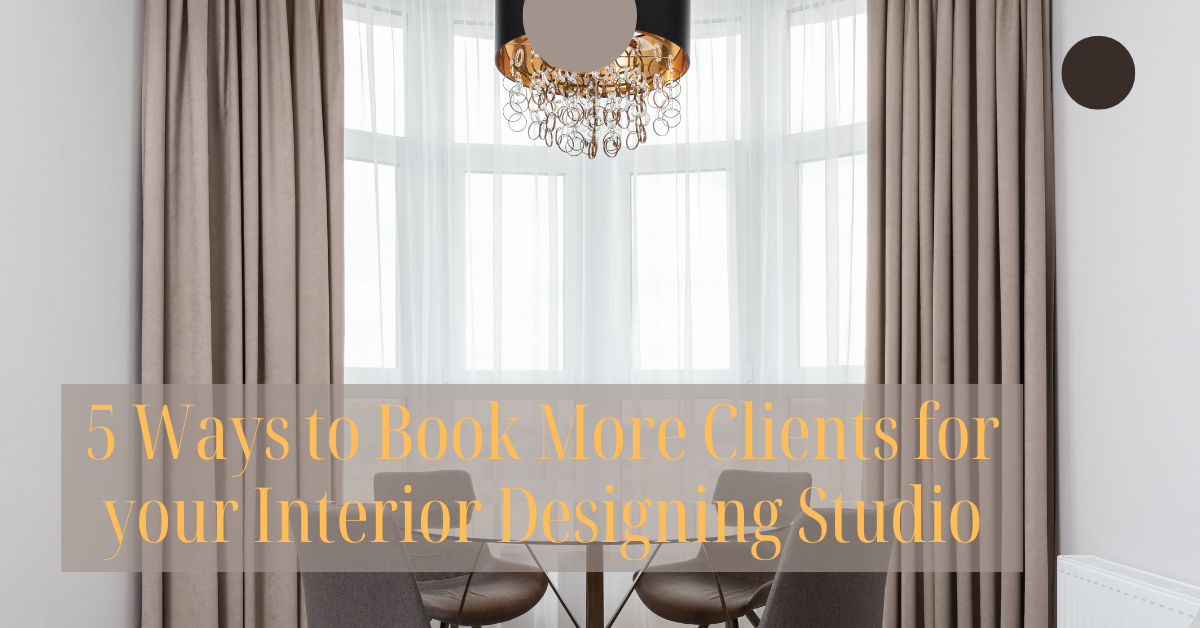 Interior designing is one of the most competitive industries in current times, and getting a consistent and considerable number of clients can be a challenging task for an interior designing studio. Today thousands of people are working as professional interior designers, and there are numerous interior designing studios in India. So, making a name among such tight competition is not easy.
You may find it challenging to get sufficient clients as an interior designing studio. Even if you are not, you must be willing to increase your business' client base for self-satisfaction or brand expansion. However, you need exceptional marketing strategies to establish a good client base. Nowadays, you can have plenty of cost-effective marketing ideas that can significantly increase your client visits.
Five Powerful Ways to Book More Clients for Your Interior Designing Studio
1.    Build a portfolio
Whether you are a freelancer or running an interior designing studio, building a portfolio is a must. A portfolio displays all the creative designs and floor plans that your studio has worked on. But you must remember that every studio has a portfolio to display their skills and designs, so make sure your portfolio stands out to gain more attention.
To make your portfolio stand out from the competitors, you must draft it wisely. Here are some ways you can make your portfolio stand out-
Never put similar or identical designs again and again in your business portfolio.
Try to make it short, dynamic, and impactful so your clients can find it interesting.
Avoid bulky and boring portfolios with unwanted design stuffing.
Incorporate different styles and project designs that your studio have created so far.
Choose a background that compliments the designs and makes them visible.
Do not go overboard with the background; try to keep it simple.
2. Digital Marketing
Another great way you can get more clients for your interior design studio is through digital marketing. Today we live in a digital world where everything is digital, so there is nothing better than marketing your business digitally. In other words, almost everyone uses social media and other online platforms today, so you can gain a wider audience if you use a digital platform to promote your studio. Here are some popular ways of digital marketing that you can try-
SEO marketing – Search engine optimization or SEO marketing is one of the popular digital marketing processes that almost every business relies on. Implementing SEO tools to optimize your website and content can show effective results.
SEO can help your website and contents crawl the SERP ranking and gain better visibility. Optimizing your interior designing studio's website can have benefits like high ROI, organic website traffic, increased client conversion rate, and improved brand awareness. However, building a strong SEO strategy takes time, but the results also last longer.
PPC – Pay-per-click or PPC is also an excellent tool to generate more clients for your design studio. This paid promotion method can bring instant results and help you get a good number of customers through paid advertising on various digital platforms. You can try Google Ads, Facebook Ads, and YouTube ads or pre-rolls. These are some of the popular examples of PPC.
Social media marketing – It is one of the simplest yet effective ways to gain more customers in your interior designing business. If you are running a design studio, you must be aware of the current social media trends. If not, start exploring today!
Create an official account on several mainstream SNS platforms like Facebook, Instagram, Twitter, Pinterest, LinkedIn, etc. Post what is going on your website and share updates with posts and stories. You can even try Hootsuite, which allows you to manage all your social media activities in one place.
Email marketing – Email marketing is another helpful way to gain more clients. It is simple, easy, and cost-effective. You can find various agencies that offer email marketing packages and bulk mailing services at a reasonable price.
Blog – You can also try to write relevant blogs on interior design and designing services to gain more attention. Regularly posting informative blogs can increase your visibility and increase your website visits.
Podcasts – Podcasts are becoming quite popular nowadays. They are portable and convenient to attract more people to your design studio. Appear on someone else's podcast or create on your own and share success stories and inspirational talks to get more audience.
3.   Conventional Marketing
Conventional marketing strategies never get old. And if you ace them, you can generate many customers who value old methods. Here are some conventional marketing strategies to try your hands on –
Business card – Even today, many people believe that keeping a business card is a sign of professionalism. And if you cannot provide a good business card, they will likely judge you as unserious or mediocre. Also, remember having a card is not enough; you must craft it well to gain better recognition. Include your affiliations, contact details, and a few sample designs to improve it.
Leaflets and Flyers – Another old-school idea that can earn you more clients for your interior designing studio are leaflets and flyers. But before you invest in them, make a proper strategy. Get a good number of leaflets and flyers (not too much or too few) and choose your target audience and location to spread them like in an event or press release, or give them to your clients to share with their acquaintances.
Brochure – The brochure is similar to the portfolio or business cards, but they are not the same. Brochure says a lot about you and your studio, like the projects you have completed, your achievements and affiliations, contact details, what your business prioritizes, and what makes you unique, among others.
Newsletters – Newsletters can also bring good customers and are easy to manage. You can try digital and printed newsletters to reach a wider crowd.
4.   Focus on Networking
Networking is a crucial tool for bringing more customers to your interior design studio. Networking is essential for every business, and this is no exception for the interior designing industry. However, building a strong network takes work. So, you can use the below methods to increase your network and gain more clients-
Organize events – Believe it or not, organizing events can earn you clients. It is one of the tried and tested methods to produce good results. Many people in the interior designing industry focus on organizing different types of events to strengthen their network and earn clients through them.
Collaborate on projects – You can also collaborate with other top studios or freelancers in your field on various projects to expand your connections. When you meet and work with other designers on a collaborative project, you share each other's contacts and networks to promote your business. Use such opportunities to access your partner's contacts to get more clients.
Provide mentorship – A mentorship program can be an excellent opportunity to promote your studio and attract more visitors if you have worked in the interior designing industry for a long time and have acquired considerable recognition as a design studio. Then you can use them to establish yourself as a mentor. Use your knowledge and experience to guide newcomers.
Also, when you offer a mentorship program, many people come to you for training; use this opportunity to meet new people and increase your client visits.
Connect with influencers – Influencers are also helpful in engaging more people in your business. Social media influencers usually have a huge fan following; when you work with them, they can help you get more audience.
For example, if you collaborate with a social media influencer and they promote your designs on their social media handles. You can reach all their audience through the post. Also, when influential people say something is good, the crowd is more likely to trust them than others.
Participate in competitions and events – Participation in different interior designing competitions can help your business gain public visibility. Think of displaying your prestigious awards and certifications on the website wall or studio office. It would be a great way to say about your reputation to your clients without wasting any words.
5.   Prioritize Customer Experience
Your existing clients can be the source of your future clients. So, treat them well. Always show your existing customers how you value them and use the following tips to generate more clients through them-
Generate Testimonials – Prioritize customer experience and serve them well throughout the process. So, when they leave, they have a good opinion about your studio. Also, encourage your customers to share their experiences as testimonials on your website or written feedback. These testimonials will convince your website or office visitors to choose you over others.
Ask for Referrals – Referrals from your clients, connections, and close friends can help to increase the number of visitors to your design studio. So, never hesitate to ask for referrals from your clients and others friends and relatives. You can even organize referral programs to encourage people by giving exclusive discounts and gifts for recommending you.
In addition, when someone recommends something, people tend to choose that particular service or product over others. So, you can get more clients when your existing clients or friends recommend your design service to their close ones.
Give special discounts – Offering special discounts, and additional services can help you turn your visitors into future clients. Interior designing services usually have a high price in the market. So, if you offer quality work at a relatively lower price, people will eventually choose you over others. You can also offer seasonal discounts to attract more people.
Running social media shoutouts and giveaways can also generate more customers. Recent research shows that people like participating in contests and quizzes that offer exciting discounts and gifts. So, organizing a shoutout or giveaway program makes you more likely to get more clients.
Conclusion
Interior designing can be fascinating work, but retaining a good client base in this industry is challenging due to the intense competition. However, if you are an interior designing studio, you must dedicate your time and money to strategize your marketing ideas.
Only a well-structured and multifaceted marketing strategy can help you gain more clients for your interior designing studio and beat the competitors. Also, you can use the above-discussed ways to get more clients for your interior designing studio.