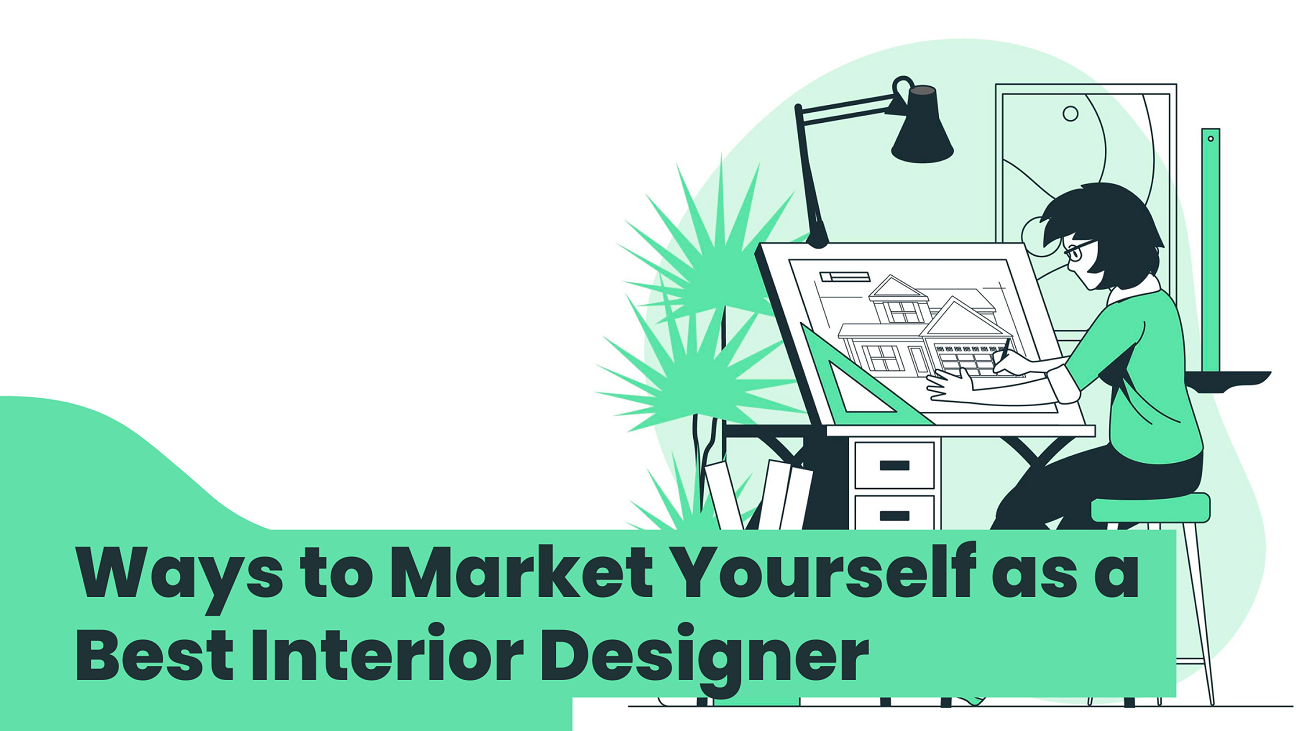 Marketing is a crucial part of any business that helps to attract potential clients and create a branding in the market. And this is no exception for interior designing as well. You need strong and dynamic marketing strategies to keep your interior designer business going.
Today the interior designing industry is one of the most highly competitive industries in the market. Whether you are a freelancer or full-time designer, you need practical marketing ideas to market your business and beat the competitors.
However, developing marketing strategies may not be easy for you as you are not a professional in marketing. That is why, here in this write-up, we will share some fantastic marketing ideas that you can use to market yourself as the best interior designer in the market. So, what are you waiting for? Let us start exploring.
Create a Portfolio
The first and most important step to market yourself as an interior designer is to create your own portfolio. A portfolio will display all the masterpieces you have designed so far and will help your potential customers understand the benefits they can get when they hire you.
However, keep your portfolio short yet versatile and use it to showcase different styles of interior designs you have created. It will make your portfolio more exciting and informative and quickly grab visitors' attention. You can upload it to your website and make some fine copies for your office use for better outreach.
Incorporate Social Media
In this digital era, social media marketing, or SMM, is vital in gathering more clients and increasing your website's popularity. Today most businesses use social media platforms, and if you use these platforms to promote your business, you will get a broader audience base.
Currently, most leading interior designers use social media for marketing their services. So, create your business account on social media platforms like Facebook, Instagram, Twitter, Pinterest, etc. and promote your business.
Upgrade Your Website
Getting more clients and marketing yourself as an established interior designer need much work and strategies to achieve the desired results. When it comes to marketing your business, your website plays a crucial role in attracting people. If your website is intuitive, user-friendly, and easily navigable, it will likely attract more traffic.
So, upgrade and optimize your website according to the latest market requirement and include essential features that increase website traffic. Also, ensure your website is mobile optimized, has fast and smooth downloads, and has no glitches for high client satisfaction.
Collaborate With Other
It may sound challenging for you if you are a solo walker, but you must do this if you wish to expand your horizons and market yourself as the best designer. When you collaborate with other designers, you can gather experience from their work, learn something new and improve your skills as a designer.
Interior design is a creative field, and when you work with other designers, you get the chance to share creativity and ideas. Plus, collaboration can bring new business networks, and you can access each other 's customer base and enhance your client base.
Update Your Works on Social Networks
Creating your business account on different social media handles is not enough; you must constantly update them with your latest projects and achievements. For instance, a potential customer can hear about you from someone else and visit your social media handle to get more information about you.
But if they get a post from six months ago and leave the site due to lack of information. So, constantly update your social media accounts with your latest projects and achievements to stay relevant and create a good impression.
You can also use your social media handles to connect with other designers and customers to expand your business network.
Participate in Contests
Another interesting way to market yourself as a successful interior designer is to participate in various design contests. Displaying different prestigious awards and certifications on your website and office gallery will eventually boost your sales and marketing, and you will gain more attention.
Awards and certifications show you your capabilities and expertise in the field and reflect your seriousness and dedication towards your work.
However, you do not always have to win every competition to showcase awards. Certificates and awards for special thanks and exceptional performance from a recognized or leading designer company can also bring more customers and boost your business growth.
Create Podcasts
Currently, podcasts are becoming a major hit in the market, and almost every business uses them to market its services. Podcasts are convenient and easy to access. You can create podcasts on your success story and essential tips for beginners. It will influence them to listen to you and visit your website for more information.
Increase Your Knowledge
You can be an excellent Interior designer in the current market, but maintaining this position in the future is not easy. Increasing your knowledge about the latest innovations in your field is a must. You must also learn about the latest trends, design themes, and techniques to maintain consistency and market yourself in this ever-changing world.
Incorporate Social Influencers
Another great way to reach more audiences and market your designs is to work with influencers. When you invite social influencers to work with you. You can learn from them about the market trends and what the audience may like.
Also, they have huge followers, you can access wide audience if they share a post or story about you. You can use your social media handles to invite influencers and learn various details about them.
Use Google Ads
Google Ads or Ad Words are very effective for marketing your business. If you want to reach more audience and create brand awareness, this can be an ideal solution for you. You can use Google Ads by creating an account with Google.
Here you can have various bidding options for different budgets and select your desired ad type. Google Ads can display your ads as video, pre-roll, image, and graphic form on different websites, social platforms, and apps associated with Google.
Use Paid Promotion on Your Social Media Handles
Like Google Ads, you can also use paid Facebook, Instagram, and Twitter advertising to reach more people. Social media like Facebook target audiences by age, hobby, and interest help you reach potential customers by posting your ads in their feeds.
Upgrade Your Business Card
Whether you are a freelancer or running an interior designing company, you must have your business card. But having a card is not enough; you must also update it occasionally to make it attractive and informative for your clients.
Use your latest projects' sketches or pictures on the background and display your latest affiliations to get attention. Also, include your latest email ID and other contact details in your business cards.
Build a store partnership
Building a store partnership can bring excellent results in terms of marketing your design business. Find a suitable store for your business promotion and ask them if you can leave your business card and booklets in the store to get an audience. You can also offer special discounts and goodies to your store partners.
Write and post blogs regularly
Posting informative blogs regularly can help you gain more attention. Posting blogs on relevant topics containing targeted keywords will help you climb the SERP list ranking and increase website traffic. You can also invite guest writers to write about your design works to get more organic website traffic.
Engage in commercial projects
Working on personal or residential projects cannot bring more business than commercial projects. A commercial interior design will have a thousand times more views than a residential design. So, to promote yourself as the best designer, you must also engage in commercial projects.
For instance, if your specialty is kitchen or hallway design, you can focus on corporate projects like redesigning office spaces. This will help you get more visibility and attention in the market.
Use email marketing
Investing in email marketing is an old but gold kind of strategy that can help you attract more clients. Cold mail and bulk mails are always helpful in gaining more clients. Create a list of old and potential clients and send automated emails for promotion and follow-ups.
Get referrals
Getting referrals from your previous clients is one of the easiest ways to gain more customers for your business. Also, when you use referrals to promote yourself as the best interior designer, your approach becomes more reliable and authentic. So, ask your clients to refer you to others and offer exclusive discounts and gifts to encourage them.
Conclusion
Becoming a successful interior designer in this competitive industry is not easy. You need robust marketing strategies to establish yourself as the best designer and beat your competitors. And incorporating latest marketing trends is the fundamental way to achieve your desired marketing goals.
Using the above-shared marketing ideas will help you acquire a significant position in the market. Also, you can seek guidance from professional marketing agencies to help you build an effective marketing strategy.