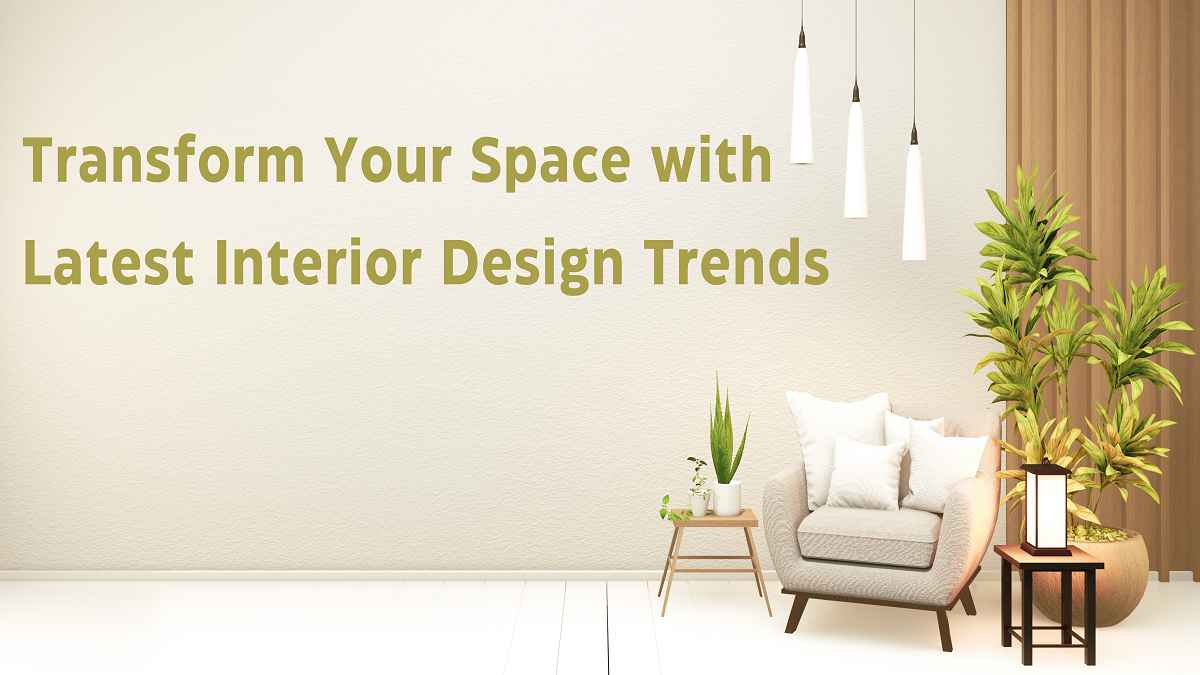 In the ever-changing world of interior design, it's important to keep up with the newest interior design trends for well-being and to create eye-appealing living spaces. Knowing the current trends can help homeowners and designers stay relevant and bring contemporary style and innovation to a living space.
By staying informed about the latest interior design trends, you can make smart choices about colors, furniture, and overall design ideas. It allows you to explore new concepts, experiment with different styles, and go beyond traditional design norms.
Furthermore, being aware of the latest trends empowers you to add a personal touch and showcase your unique personalities and tastes in your living spaces.
Following the latest interior design trends also ensures that your living spaces look visually appealing and well-coordinated. These interior design trends frequently emerge in response to evolving preferences and societal shifts. Embracing these trends allows you to design living spaces that align with current styles and create a harmonious environment.
To ensure you stay informed about the latest trends in the interior design industry, we have crafted this article. It will shine a spotlight on some of the newest interior design trends in 2023. Stay tuned to discover these exciting trends and keep your living space up to date with the latest trends in interior design.
Definition of Interior Design Trends
The latest trends in interior design are the popular styles and aesthetics that shape how we decorate our living spaces. They change over time and are influenced by society, culture, and technology. These trends are important for homeowners and designers as they determine the overall look and feel of a space.
For homeowners, following interior design trends helps keep their homes fresh and up-to-date. It allows them to incorporate modern ideas, colors, and furnishings that match their personal style. Following trends ensures that their spaces look good, work well, and stay in line with current styles.
Designers also rely on trends to guide their creative interior work. By staying informed about the latest trends, designers can understand what clients want and create spaces that are relevant and visually appealing. They use trends as inspiration to craft innovative and harmonious interiors, showcasing their expertise. Also, trends can help them deliver the best work to their clients and establish themselves as one of the best interior designer in the market.
Interior design trends are always changing and have a big impact on how we design our living spaces. They prevent spaces from becoming outdated and encourage us to try new ideas. Trends influence the choice of colors, furniture, materials, and layouts, creating a cohesive and engaging environment. Following trends ensures that spaces reflect individuality, have a timeless charm, and stay ahead in design.
Latest Interior Design Trends
Here are some of the newest interior design trends in 2023:
Biophilic Design
Sustainable Design
Maximalism
Earthy Tones
Multifunctional Spaces
Vintage and Retro Revival
Mix of Textures
Curved Furniture
Statement Ceilings
Smart Home Integration
Let's take a look at all of these latest interior design trends in detail.
Biophilic Design
Biophilic design is all about bringing nature indoors to make living spaces more enjoyable. It includes things like indoor plants, natural materials, and big windows. By adding plants, like potted ones or green walls you can make your place look beautiful and peaceful.
It includes the use of materials like stone and wood which gives a comfy feeling. Having large windows lets in lots of natural light, which makes people feel happier and less stressed. Biophilic design isn't just about looks; it's also about making people feel better by connecting them with nature while they're inside.
Sustainable Design
Sustainable layout is all about developing environmentally friendly residing areas. It includes the usage of eco-conscious materials, recycled or reclaimed substances which can be good for the surroundings.
It additionally includes installing electricity-efficient home equipment so that it will reduce strength intake and lower power charges. With sustainable design, you can make your dwelling area power efficient at the same time as additionally protecting the planet for future generations.
Maximalism
Maximalism is the latest interior design trend that loves boldness and vibrancy. It's all approximately creating eclectic interiors that attract attention. In maximalist spaces, you'll discover a blend of various styles, like distinct flowers and striking geometric designs.
The colors used are bold and contrasting, making your space lively and active. The texture is also essential, with a variety of fabrics, textured walls, and particular finishes to add depth and hobby.
Maximalism encourages fearless creativity, permitting you to express your personality in a visually thrilling way. This newest interior design trend is all about making a statement and embracing the joy of ambitious design.
Earthy Tones
Earthy tones are gaining popularity in interior design for their warm and calming effect. Colors like terracotta, olive green, and ochre create a grounded and soothing atmosphere. Terracotta adds rustic charm and warmth, while olive green brings a natural and peaceful vibe.
Ochre adds a touch of vibrant energy. When combined, these earthy colors create a balanced palette that connects with nature. Using these tones in interior design creates a cozy and inviting ambiance, providing a peaceful escape from the busy world outside. These colors bring a sense of tranquility and make spaces feel welcoming and harmonious.
Multifunctional Spaces
Multifunctional spaces are designed to make smaller living areas more functional. They use furniture that can serve multiple purposes and smart storage solutions to maximize space. Adaptable furniture, like sofa beds or storage ottomans, can be used in different ways.
Smart storage solutions, such as wall-mounted shelves or built-in cabinets, make use of unused areas. These strategies help make small spaces organized and efficient.
By having multifunctional elements, small spaces can be transformed into versatile and practical areas that meet different needs. It ensures that every inch of space is used effectively.
Vintage and Retro Revival
Vintage and retro revival in interior design is set mixing current and antique elements to create a unique and nostalgic vibe. It includes the usage of mid-century present day furnishings, retro-inspired decor, and iconic design pieces from past.
By combining these with current touches, you can add some charm and character to your living space. This interior design style brings back the reminiscences of the past and creates a one-of-a-type look. It allows you to showcase your personal style and respect the design traits of bygone eras. The viintage and retro revival aesthetic adds a unique look to your interior, making it stand out and sense warm and nostalgic.
Mixing Textures
Mixing textures is one of the newest interior design trends. It includes combining special materials, like velvet, leather, metallic, and natural fibers, to create a visually interesting and numerous appearance. This can easily add contrast and depth to your living area.
Velvet feels luxurious and gentle, while leather offers a classy touch. Metal elements bring a present day and sleek vibe to your living space. Also, Natural fibers, together with rattan or jute, add an organic and textured experience.
By the usage of those unique textures collectively, you can create a dynamic and appealing surroundings where the substances complement each different. This will make your dwelling space visually attractive.
Curved Furniture
Curved fixtures in indoors design consists of tender and natural shapes with clean, curved lines. It creates a cushty and flowing sense in a living space. The funrniture is designed with mild curves that observe the frame's herbal contours, promoting ease and rest to your living area.
These sleek strains can add elegance and splendor to the overall look of your residing space. Whether it is an arched table, curved couch, or a rounded chair, the use of curved furniture creates a welcoming atmosphere and visually captivating environment. It brings a sense of softness and harmony to the living space, making it more comfy and welcoming.
Statement Ceilings
Statement ceilings are great a way to make your ceilings visually interesting by adding unique elements like bold paint colors, eye-catching wallpapers, exposed beams, or decorative moldings.
Instead of leaving your living space's ceiling plain and unnoticed, statement ceilings draw attention upward and become the centerpiece of the room. Using vibrant paint colors or intricate wallpapers can add personality and style to the overhead space of your home.
Exposed beams bring a country and architectural appeal to the ceiling of your dwelling area. While decorative moldings can bring an elegant and complex touch in your living area's ceilings. These creative touches can make the ceiling visually attractive and enhance the overall layout of your room, making it a notable feature.
Smart Home Integration
One of the present day latest trend in the interior design that I surely love is the smart home integration. This includes incorporating smart technology into your own home to control temperature, monitor security, and control lighting effortlessly.
By integrating those technologies, you can easily control your living space remotely through your smartphone or with simple voice instructions. Moreover, temperature control structures permit you to regulate the temperature of your living area conveniently, even while you're no longer at home. Smart protection structures offer more desirable tracking and safety for your private home, keeping it secure and steady.
Importance of Keeping Up with Trends
Keeping up with the latest trends in interior design can have a significant impact on the appeal and functionality of your living space. By incorporating current design trends, you can create a visually appealing and modern environment that reflects your personal style. The right trends can transform a dull space into a vibrant and inviting one.
Moreover, staying up-to-date with interior design trends can positively influence the value of your property. Potential buyers or tenants are often drawn to homes that exude contemporary and stylish elements. By implementing popular design trends, you increase the chances of attracting more interest and potentially commanding a higher price for your property.
In addition, staying ahead of the competition is crucial, especially in real estate. With an ever-evolving market, it's important to keep your property in line with current trends to stand out from similar listings. By offering a visually appealing and up-to-date interior, you can set your property apart and attract more potential buyers or renters.
Ultimately, following the latest trends allows you to create an interior space that is not only aesthetically pleasing but also functional and appealing to a wider audience. It ensures that your living space remains relevant and keeps up with the dynamic demands of the market.
Forecasting Future Trends
Stay ahead of the game by exploring potential upcoming trends in interior design. Industry experts and market indicators suggest exciting changes on the horizon. From nature-inspired elements to sustainable materials, there's a shift towards creating harmonious and eco-conscious spaces.
Stay tuned for evolving trends and adapt your living spaces accordingly. By keeping an eye on the pulse of the design world, you can infuse your interiors with fresh ideas and stay ahead of the curve. Embrace the future of interior design and let your space reflect the latest trends for a stylish and contemporary home.
Conclusion
Staying informed about the newest interior design trends is crucial for creating appealing and functional living spaces. By keeping up with expert opinions and market indicators, you can anticipate and embrace new design elements that will enhance your homes.
It is important to remember that trends are constantly evolving, and by staying tuned, you can adapt your living spaces accordingly and stay ahead of the curve. While following the interior design trends, it is also essential to experiment and personalize your spaces to reflect your unique style.
So, stay informed, be creative, and enjoy the process of transforming your living spaces with the latest trends in interior design.